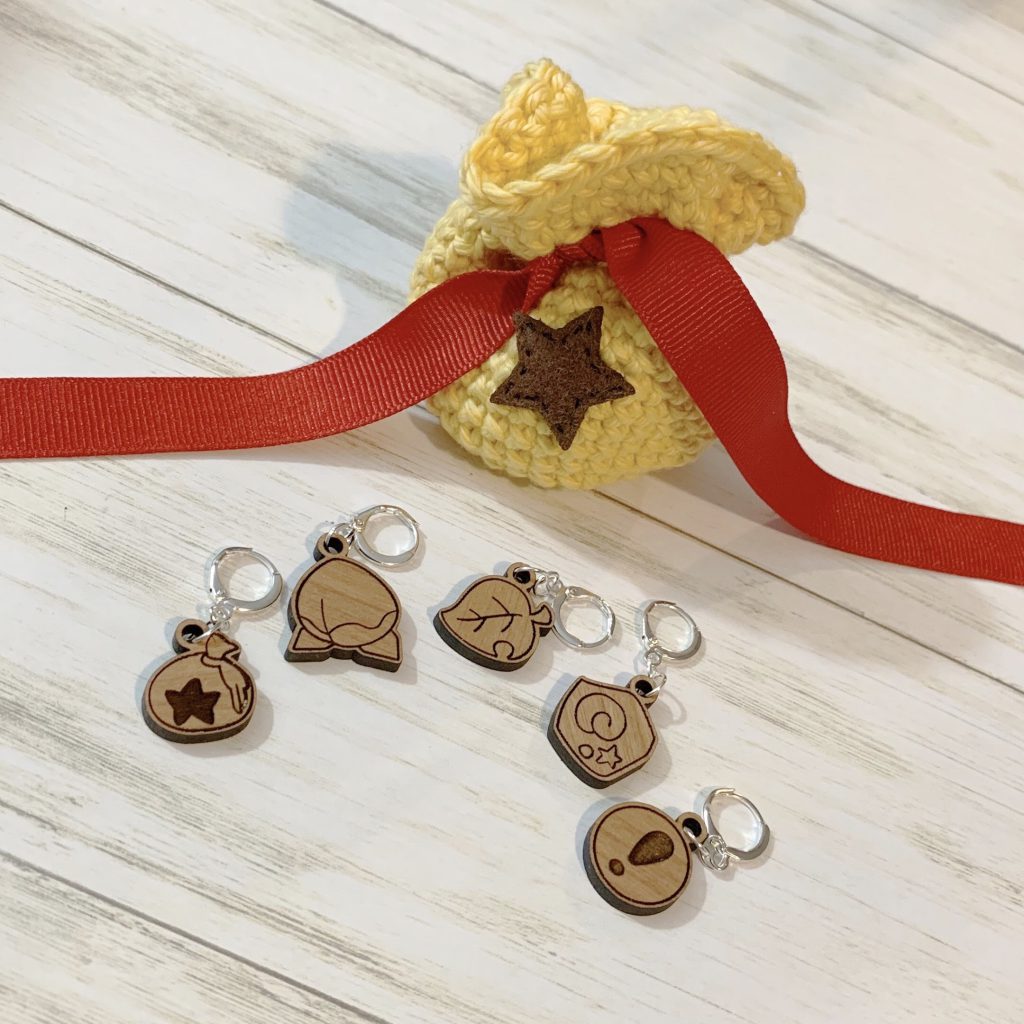 This month's design for Patrons at the Stitch Marker tier was already available on the Etsy shop, so I wanted to make them all a little something extra as a Thank You. A little Bell Bag seemed too perfect, so I set off to make little mini ones to put everyone's markers in.

For anyone who wanted to make their own, here's the pattern!


---
Mini Bell Bag
Materials
3.5 mm hook
yarn needle
polyfil
yellow yarn – I used I Love This Cotton in Curry
red ribbon
brown felt and thread
Stitches
magic circle (mc)
single crochet (SC)
double crochet (DC)
increase (inc) two stitches in the same stitch
decrease (dec) – bringing two stitches together
slip stitch
---
Worked in the Round
Bag
Rnd 1.  MC. 6sc (6)
Rnd 2.  Inc x 6 (12)
Rnd 3. (sc, inc) x 6 (18)
Rnd 4. (sc x 2, inc) x 6 (24)
Rnd 5.  (sc x 3, inc) x 6 (30)
Rnd 6. (sc x 4, inc) x 6 (36)
Rnd 7. – 14. sc in each stitch (36)
Rnd 15. Ch. 3. Skip one stitch and DC in the next. (ch 1. Skip next stitch. DC in the next stitch) Repeat from ( to ) until the end.
Rnd 16. – sc in each dc and chain space around (36)
Rnd 17 – 18. – sc in each stitch (36)

FO and sew in ends.

Cut your stars from the felt (mine were about an inch across) and carefully stitch to the bag. Then take your red ribbon and weave it back and forth through the row of DC and chains.

Ta Da! Your very own Bell Bag!

Happy Stitching!