The last couple of weeks have been busy around the craft studio. Between Halloween Reveals, best friend visits (the responsible socially distanced best friend, don't worry), costume sewing and prepping for my first makers market, it's been a rush. Surprisingly, I've found a lot of time to create my own patterns in this whole process, something I'm really grateful for! I was looking for a messy bun pattern and just didn't find anything to settle on. There's a lot of gorgeous ones out there, but nothing really spoke to me, so I decided to work on my own. It'd be my first adult hat pattern and my first that was more complicated than simple DCs with some backstitching. And, well, here she is!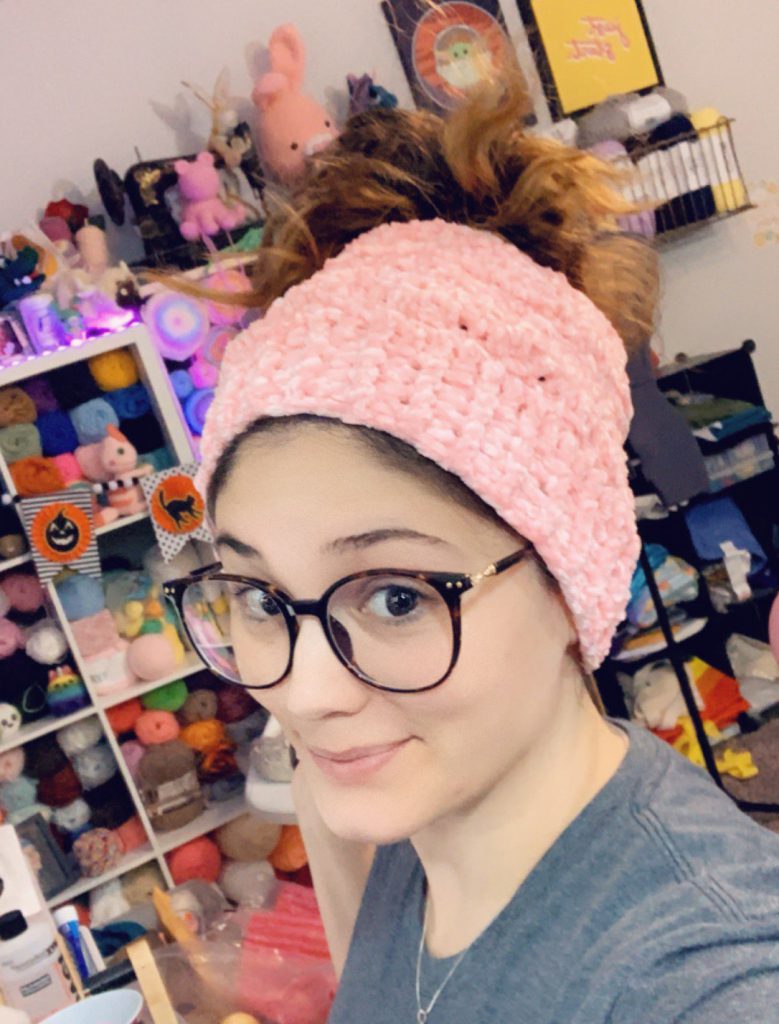 Messy Bunny Beanie
Materials
Worsted Weight Yarn
5 mm crochet hook
hair elastic
yarn needle
Stitches
HDC – half double crochet
DC – double crochet
BPHDC – Back post half double crochet
FP DC – Front post double crochet
BP DC – Back post double crochet
At the beginning of each row, I chain 2 and at the end, I slip stitch to the first DC in the row. The chain does not count as a stitch

Row 1 – Working around your hair elastic, DC x 36
Row 2 – (DC x 5, inc) x 6
Row 3- (DC x 6, inc) x 6
Row 4 – In the 3rd loop, (DC x 7, inc) x 6
*At this point, your hat should be between 6″ and 6.25″ across. If it is not (your gauge might be tighter than mine), or if you like your hats looser or tend to need larger ones, add another increase row of (DC x 8, inc) x 6*
Row 5 – In the 3rd loop, HDC in each stitch around
Row 6 – (HDC x 2, DC Bobble) – repeat to end
Row 7 – DC in each stitch around
Row 8 – In the 3rd loop, DC in each stitch around

Repeat Rows 5 – 8 two more times.

Row 17 – BPHDC in each stitch around
Row 18 – 21 – (BPDC, FPDC) repeat to the end.

FO and weave in your ends.
---
Overall, I've found this pattern a pretty quick stitch (yay!). Hopefully you do too, or at least find it enjoyable.
Happy Stitching!